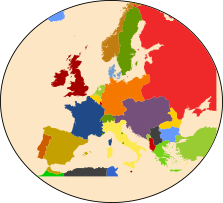 Europe - World War I
(summer of 1914)
Step 1
Select the color you want and click on a country on the map. Right-click to remove its color, hide, and more.
Step 2
Add a title for the map's legend and choose a label for each color group. Change the color for all countries in a group by clicking on it.
Drag the legend on the map to set its position or resize it. Use legend options to change its color, font, and more.
Step 3
or I O : Zoom in/out
or W A S D : Move map
Click on the map to draw the selection.
Right-click or Enter: Finish the selection
Esc : Cancel
Your choices will be saved for your next visits to this map page.